Handmade from copper, brass and alloys each bracelet is uniquely handmade by skilled craftspeople in Nepal according to traditional methods handed down from multiple generations of family artisans. Measures 0.35 inches wide.
Meet the Artisans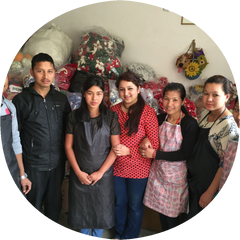 Walking into the Kathmandu production center's reception you are immediately greeted by a cheerful 'Namaste' ('I Salute the God Within You') with hands pressed together in a prayerful expression. Proceeding into any of the production halls you'll be greeted by a complete chorus of the same as dozens of ladies press felt into a variety of shapes, while others stitch, needle and applique to finish hundreds of different styles of decorative items for export.
Sheep's wool is an amazingly adaptable fiber. It can be dyed any color and when hand felted using warm mildly soapy water it can be molded into any shape, or then cut and sewn together as per your imagination. Because the felting and most of the stitching process is all done by hand with natural materials that can be sustainably harvested, hand felted products have a relatively soft impact on the environment. Commercial exports of felted products from Nepal have grown exponentially since around 2000, benefitting thousands of mostly women workers, production managers and family businesses who help support their families and educate their children with their earnings.
Estimated Delivery
The current average delivery time for this item is 5 days. Estimated delivery window is 5 to 10 days* for delivery in the United States and Canada. Of this shipment type, 31% of customers received their package early, and 94% received it on time.
Order today to receive it between and
* Even faster Express Shipping is available for this item! Select upgraded shipping at checkout.
Cost
Free. See our shipping chart for options and more information.
Availability
This item ships within the United States and Canada. For a calculated charge, this product also ships to: Australia, Belgium, France, Germany, Ireland, Italy, Netherlands, New Zealand, Spain, Switzerland, and the United Kingdom. Not yet available to other countries.
Tracking
Updated tracking available for every shipment. See our Help Center FAQ for more information.
If you are unhappy with your item and wish to return it, please submit your request via our dedicated Returns Center. We take every customer issue seriously and want you to be satisfied with your experience with us.
Please read our full return policy here for complete details, conditions, and exclusions. We also invite you to contact us with any product questions or issues as soon as you encounter them. Use our contact page to reach us easily.
Return Window: 30 days after delivery
Restocking Fee: None, unless repackaging or rebranding is needed or item is not immediately resellable.
Return Shipping: Paid by Customer. Exceptions: Incorrect item; Flawed/Defective item; Item damaged in transit.