Simple and sweet. Sea-foam and Silver. This handmade paper bracelet is elasticated.
Meet the Artisans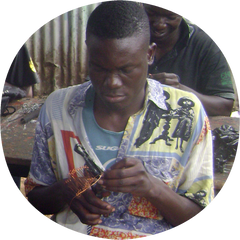 Imani Workshop
Based in Eldoret, Kenya, Imani Workshops was established in 2005 under the social enterprise wing of the Academic Model for Providing Access to Healthcare (AMPATH). AMPATH was created in response to the challenge of providing life-saving care in the face of the HIV pandemic in Kenya. AMPATH now treats over 60,000 HIV-positive persons, with almost 2,000 new patients being enrolled each month at over 500 clinical sites throughout western Kenya.
Imani Workshops is a fair trade, social enterprise created to provide hope and sustainable income opportunities for HIV+ and disabled persons. Along with medical services provided by AMPATH, Imani artisans are provided skills training and employment opportunities that give them and their children an avenue to rebuild their lives economically and socially.
Estimated Delivery
The current average delivery time for this item is 5 days. Estimated delivery window is 5 to 10 days* for delivery in the United States and Canada. Of this shipment type, 31% of customers received their package early, and 94% received it on time.
Order today to receive it between and
* Even faster Express Shipping is available for this item! Select upgraded shipping at checkout.
Cost
Free. See our shipping chart for options and more information.
Availability
This item ships within the United States and Canada. For a calculated charge, this product also ships to: Australia, Belgium, France, Germany, Ireland, Italy, Netherlands, New Zealand, Spain, Switzerland, and the United Kingdom. Not yet available to other countries.
Tracking
Updated tracking available for every shipment. See our Help Center FAQ for more information.
If you are unhappy with your item and wish to return it, please submit your request via our dedicated Returns Center. We take every customer issue seriously and want you to be satisfied with your experience with us.
Please read our full return policy here for complete details, conditions, and exclusions. We also invite you to contact us with any product questions or issues as soon as you encounter them. Use our contact page to reach us easily.
Return Window: 30 days after delivery
Restocking Fee: None, unless repackaging or rebranding is needed or item is not immediately resellable.
Return Shipping: Paid by Customer. Exceptions: Incorrect item; Flawed/Defective item; Item damaged in transit.